PrestaShop is an open source e-commerce solution that you can use to run an online store either cloud or self hosted. PrestaShop is currently used by more that 270,000 online stores worldwide and is available in 65 different languages. It was, originally named as phpOpenStore, was started in 2005 as a project by students in Paris, France.The founder Igor Schlumberger and Bruno Lévêque  in 2007,  established the company PrestaShop SA.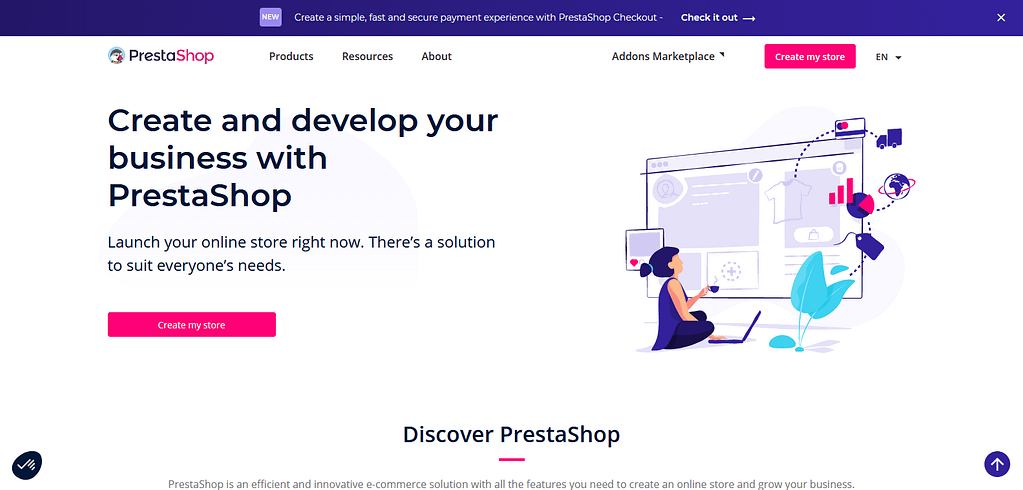 It is one of the most robust eCommerce shopping carts that is absolutely free and can be downloaded and installed. PrestaShop is very easy to use, beginner friendly and provides a powerful responsive store interface for customers, and best of all it's free.
If you want to learn how to install and use PrestaShop for your web store, visit our next tutorial How to install PrestaShop
PrestaShop Features
PrestaShop has more than 300 built-in features for managing product listing, shipping, payments, and suppliers etc. PrestaShop uses a web-based template system which allows users to customize their store themes and add new features. The PrestaShop Add-ons marketplace sell themes and modules from third party developers that can be used to customize it. The main features of PrestaShop is as follows:
Powerful Catalog and Site Management
With the new version PrestaShop 1.7, the products can be added to catalogue in a much better way. Users can now quickly create a simple product, digital products or pack of products and organize its features and other attributes. User can also manage the inventory easily with one-click updates, easily import and export, set attributes, sort products, and much more.
Managing products was never been so easier with PrestaShop. User can edit content, manage product displays, and change languages through the PrestaShop Admin. PrestaShop offers one-click upgrade to keep a store running at the latest version.
Payment and Shipping:
PrestaShop offers multiple payments and shipping method. You can configure the payment and shipping method easily from your admin backend. You can even run geographical delivery zones and apply shipping carriers as per your requirements.you can set the pricing of the offered shipping methods and also define maximum dimension of the packages.
Customer Account Management :
Customer account management comes built-in in PrestaShop, this increase customer satisfaction by providing them with an easy to use check-out and it helps in keeping customers loyal. You can configure the customer account creation form, enable your customers to get an account on your store, allow your customers to run & track their orders.
Merchant can also manage the addresses of your customers and create new customers or edit the existing ones. Seller can easily import / exports lists of customers and find your customers from admin backend. You can even personalize the user experience of your customers by creating customers groups
Refurbished Modules Page: 
Modules can be managed in a better and a lot easier way with the renovated modules page in PrestaShop 1.7. A new tab facility is launched which allows you to easily view the installed modules and options to alter them or even find new modules.
You can easily extend your store with modules and themes by installing free, external or add-ons modules. You can even Preview of the Addons catalog and recommendations of themes & modules.
SEO and Marketing Tools:
To increase traffic on your site you need Search Engine Optimization, more traffic means more sales. PrestaShop lets you optimize your site and ensure major search engines are indexing the store. The new SEO and URL tab lets you define seo-friendly URL and title for your products that helps in getting good ranks in Google.
From PrestaShop admin you can measures the impact of you promotional campaigns, get reports about traffic and also get insights about in-site visitor navigation to your online shop.
Localization and Taxes:
PrestaShop provides advanced tracking system that can detect location of customers and you can configure taxes depending on the locations. You can also configure the exchange rate and let customers choose their preferred currency.
Easy Checkout Process:
User can configure one page checkout in PrestaShop, you can even display a summary page before the customer validate the cart. Checkout page allows your customers to quickly create an account, let your customer choose the addresses select shipping & payment methods and display a confirmation page with related details after payment is completed.
Internationalization:
PrestaShop offers almost 65 language for your store including multiple currency and shipping based on location. Users can translate you single store in different languages, this helps a merchant to cater customer all around the world.
You can choose the country to make your store available, adapt your shop to the market you target, set currencies and automatize the exchange rate movements and use multi-language product sheet to adapt description to different markets. You can also run multiple stores on the same backoffice.
Mobile Responsive:
PrestaShop comes with responsive storefront and checkout systems that makes it incredibly useful. You can even manage your entire online store from your mobile thanks to the completely responsive back office. PrestaShop lets you access your store admin backend directly on your mobile and make any changes necessary on the go.
Your website will be completely responsive, good for search engine and thus it helps in ranking higher in search results.
The PrestaShop has a lot to offer for your business growth. If you are planning to open an online store, I strongly recommend PrestaShop. PrestaShop has tons of features and its very easy to use and customize as per you needs.
I hope this article help you understand PrestaShop and its features. Please do share your comments below your experience with PrestaShop.